My Background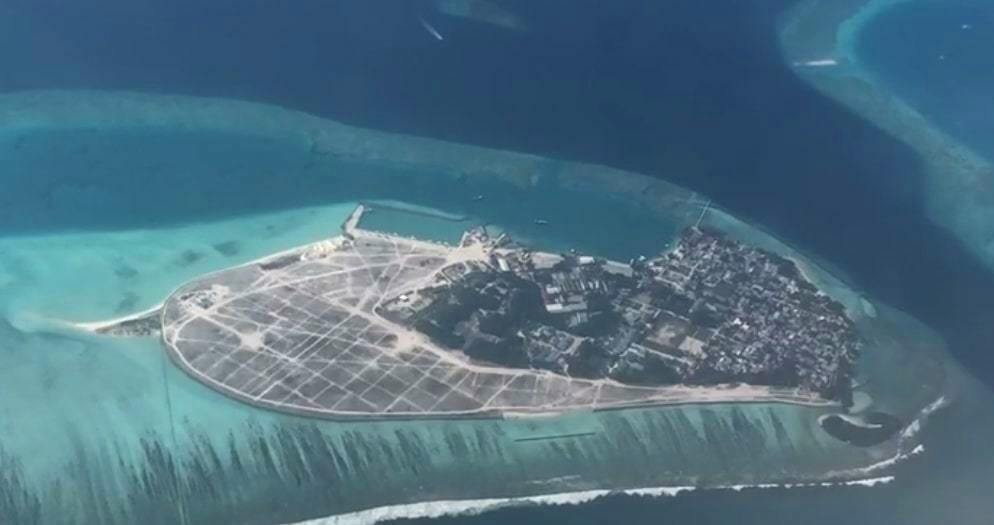 I spent a little over a week in the Maldives as a layover between Singapore and Sri Lanka. I planned my week there pretty last minute (while waiting for my go-jek to the airport in Bali!), so a few of my choices were a bit under-researched, but none the less, I had a great time. I spent the majority of my time on Thulusdhoo, bar a half day on each end in Male.
Maldives on a budget
Obviously the Maldives aren't south east Asia, but you don't need to be scared of costs either. Bottom line is, take public boat transportation when travelling from one island to another, not speed boats, stay on local islands, not resorts, and eat groceries and snacks whenever you can, and you'll be fine. Be smart with your money and you can expect a basic budget (transport, accommodation, food) around 50 USD per day.
If you're looking to stay for a while, I'd recommend island hopping around the North Male Atoll, hitting up each local island for 3-5 days each.
Male and Hulhumale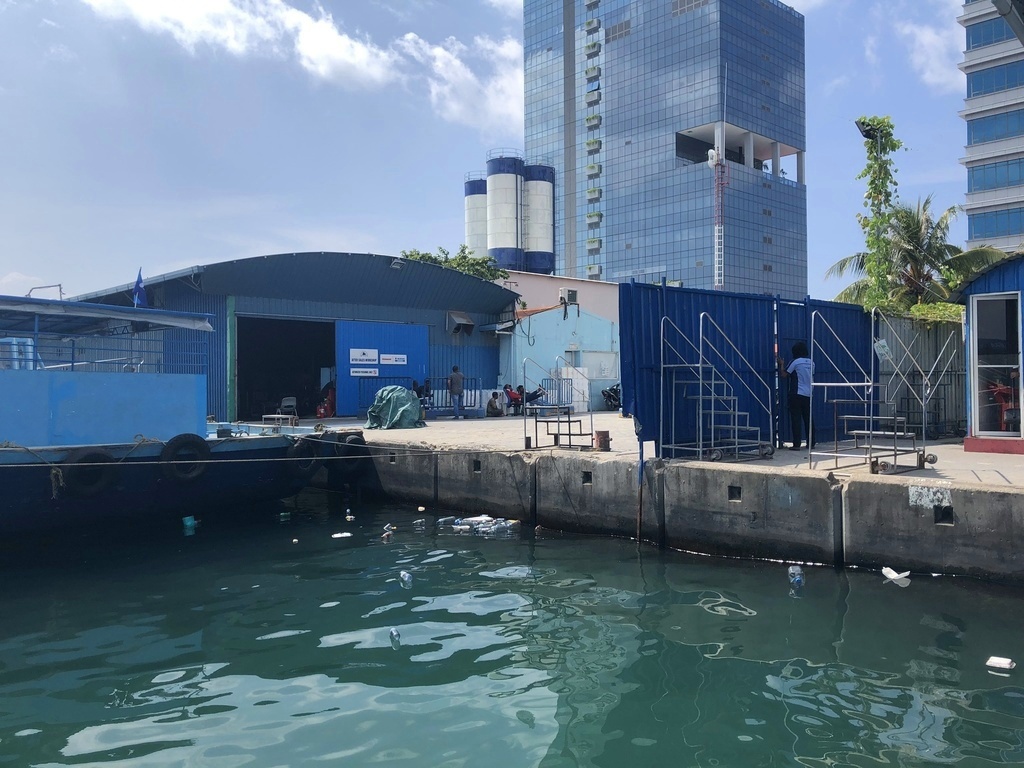 Flying is pretty much the only way to get to the Maldives besides taking a private yacht. I've heard cargo ships coming from Colombo, Mumbai, and other nearby ports simply don't take passengers. When you arrive in Hulhumale, assuming you're taking the ferry to your island of choice, you're going to have to first get across the water to Male. I've heard that there's a bus which crosses the newly built bridge, but I took a shuttle ferry, costing 20 MVR. It departs from right outside the airport, and takes you to the north-east side of Male. From there you need to get to the Villingili ferry terminal, on the south-west shore. It's only about a thirty minute walk. There's a large outdoor food-court right next to Villingili, so if you're early you can grab a bite to eat.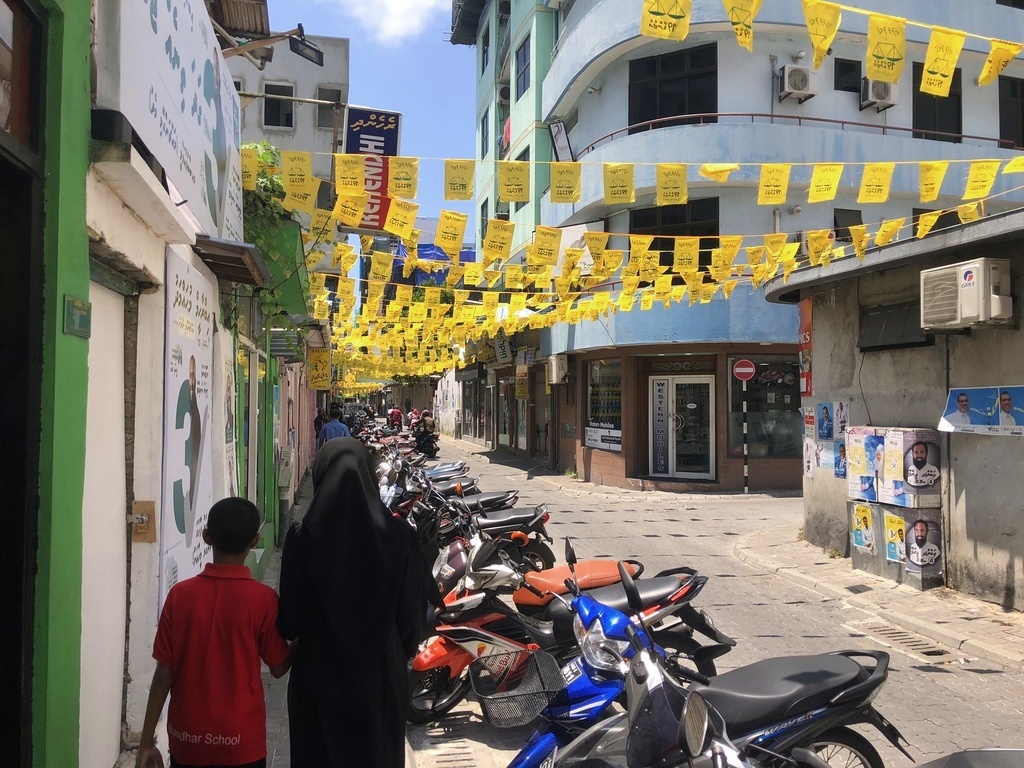 Male is very similar to Nadi, Fiji, in that it's your access point to the Maldives, not your final destination. There isn't really any reason to spend a night there, but if you're stuck with nothing to do, check out the fish market, National Museum, or Hukuru Miskiyy mosque. In general however, you're going to want to spend the bulk of your days on a smaller island, using Male and Hulhumale as your connector.
If you're returning via boat from elsewhere in the atoll, and you're connecting to an international flight, you can ask the captain to drop you off at Hulhumale instead of Male, which saves you a long sweaty walk across the island.
Getting Around
The Maldives are huge. Thuraakunu in the north is closer to India than to Hithadhoo, nearly 1000km to its south. While they're pretty well connected by boat, I cannot advise you on how to get around anywhere outside of the North Male Atoll. Try checking out The mtcc website for info on ferry connections. I've heard that any routes are possible, given a flexible enough schedule.
However, you don't need to get far away from Male to find paradise. The North Male Atoll has a few great local islands including Thulusdhoo where I went, but I've also met people who loved Dhiffushi, Huraa, and Himmafushi. To get around, there's a ferry that departs Dhiffushi in the early morning, stopping at each major island en route to Male, and leaves the Villingili Ferry Terminal at 2:30pm, taking the same route back north. Multiple ferries leave Villingili throughout the afternoon, so check with the captain before you get on one that it's headed where you want to go!
Schedule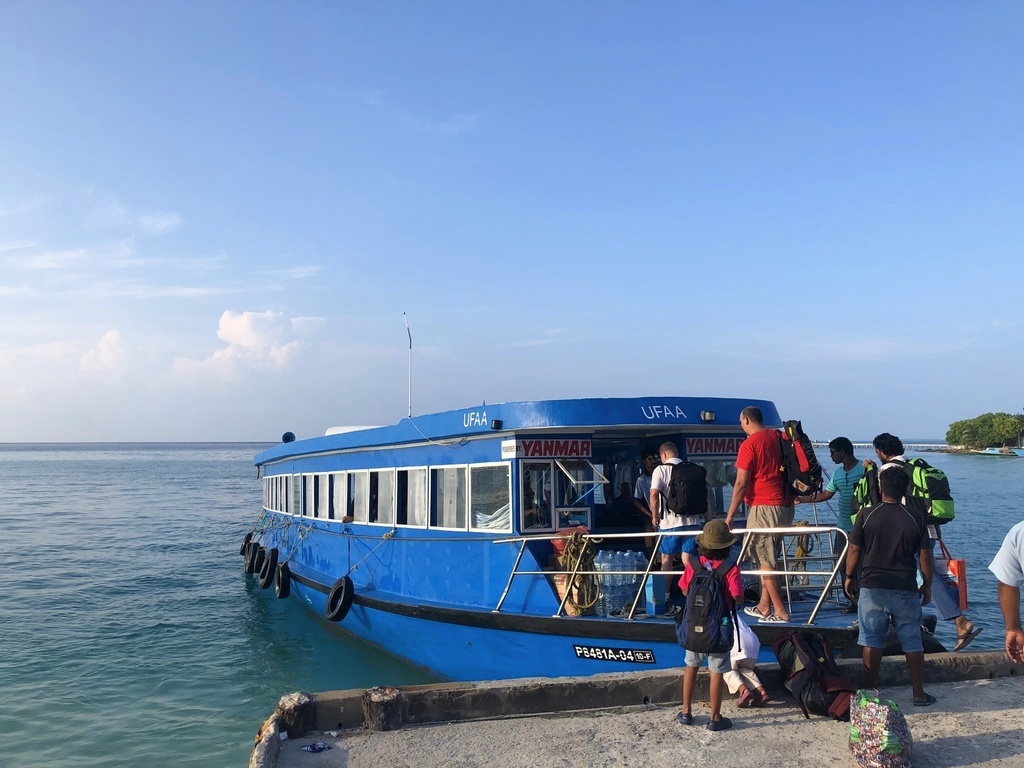 I've read lots of conflicting information online, and been told lots of conflicting information by the locals on Thulusdhoo about the timing of the ferry. Everyone seems to agree that the ferry does not run on Fridays, while some sources also suggest that it doesn't run on Sundays, so to be safe, plan your transfers on Saturday, Monday, Tuesday, Wednesday, or Thursday. Online sources seem to agree that it leaves Dhiffushi at 6:30am, therefor arriving at Thulusdhoo sometime between 7 and 7:30. In reality, every local had a differing opinion on when the boat would arrive, so I got to the docks early, and caught the ferry when it arrived around 8:30ish. Regardless of what you read or hear, plan to arrive at the docks early in the morning, and ideally don't schedule an onward connection until the afternoon. The return trip north seems a bit more consistent. I only took it once, but it left pretty much right on time from Male at 2:30pm.
Tickets
Tickets on Male can be purchased at the small ticket office at Villingili Ferry Terminal, and do not need to be reserved or purchased ahead of time, not sure if you even can. On the return journey, I bought my ticket from the boat captain when I got on, which seemed standard. Cost is dependant on which island you're coming from/going to, but expect it to be between 30 to 50 MVR each way.
Thulusdhoo
My island of choice for my time in the Maldives, Thulusdhoo is a small local island sitting 30km north of Male, with just enough infrastructure to be "easy", but few enough tourists to feel unspoiled. If you're used to some of the ultra-remote islands of the south pacific, Thulusdhoo will feel too busy for you, but if you're coming from south east Asia, it'll be paradise.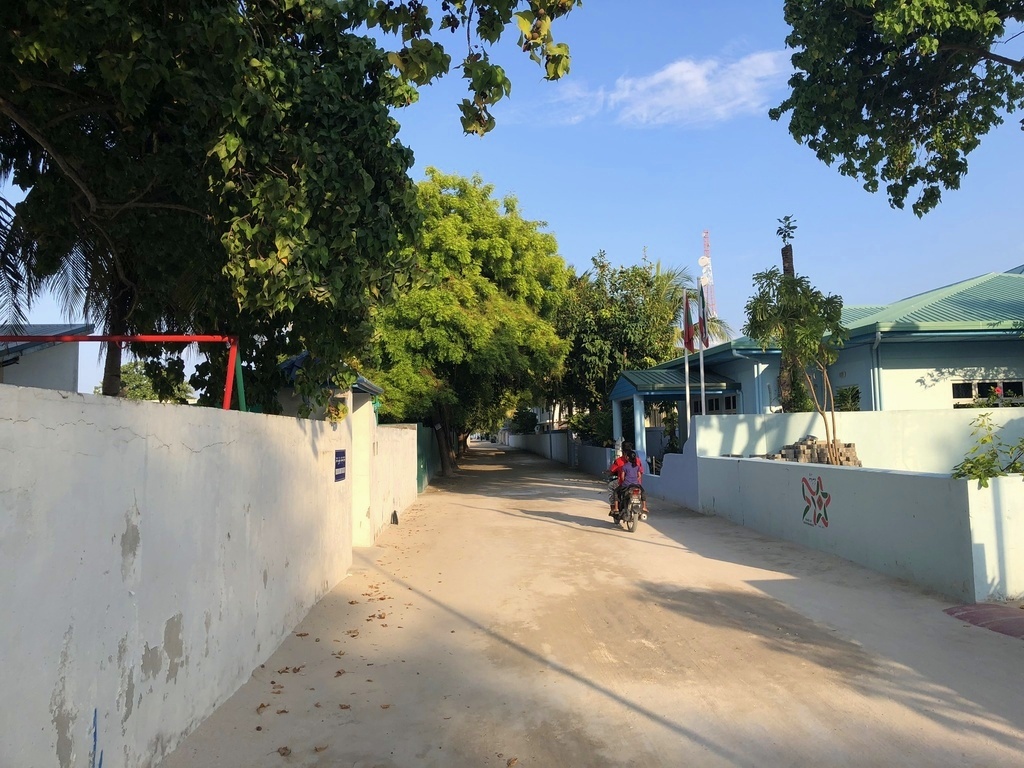 Thulusdhoo is about a kilometre by two kilometres, so it's easy to walk to anywhere on the island. In fact, I only saw one car during my time there, a rusty old pickup truck that had seen better days. The main town is clustered around the east coast, but the entire island is interesting, and it's definitely worth a couple of days exploring. There are a handful of options for everything from accommodation to diving or surfing, as well as multiple sources of food for various price points.
Note: Thulusdhoo's sister island, Viligilimathidhahuraa, was still mostly uninhabited at the time of my visit, however a resort was being constructed by Dubai billionaires that, if completed, might change the dynamic of Thulusdhoo, and definitely of chickens surf break.
Practicalities
Thulusdhoo is local island, not a private resort. This means that all of the Maldives usual laws and customs apply. I won't list them here, but do your research before you come. I found that in practice, wearing shorts that extended slightly below the knee was fine, along with t-shirts, but things unfortunately might be more strict for women. For beach info check out my beach section. Even if the military won't arrest you for practising non-Muslim religions or swimming topless, the way you act, and the amount of respect you give the local community may affect the way that they treat the travellers who come after you, so act respectfully.
Money wise, you will need both USD and MVR. Some places will only take MVR, some only USD, and others still will take both, but give you a terrible exchange rate. If you want your money to last you longer, make sure to have enough of each, so that you can pay in whichever currency warrants a better deal.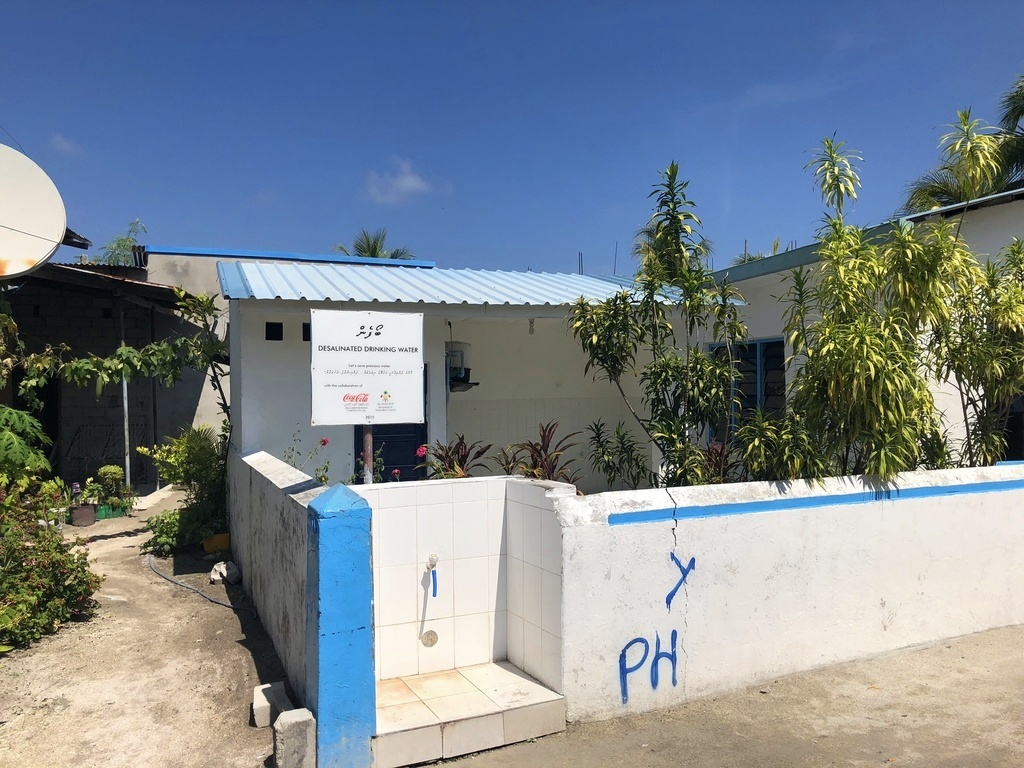 There is a Bank of the Maldives ATM at the northwest end of the island, near the docks. This ATM reliably accepted my slightly obscure Canadian bank card, and gives out MVR. There is no good way of getting USD on the island, and while it can be withdrawn on Male, a better option is to withdraw a large amount before you arrive in the Maldives, as you'll always be able to convert it back, or into the currency of your next stop.
The Maldives are hot, and the heat gets even worse when trapped between the concrete and metal buildings on the local islands. Luckily for you, water is free on Thulusdhoo, thanks to Coca Cola, or more specifically, the local workers that Coca Cola employs. There is a free, public water source right in the middle of the island, marked on the map as the Free distribution of water. There's often a line, but the spigot is well maintained, so jugs can be filled quickly. You may laugh now, but after about 30 minutes of walking around, you're going to be pulling out this guide thinking, "Didn't it mention something about there being free water?"
Food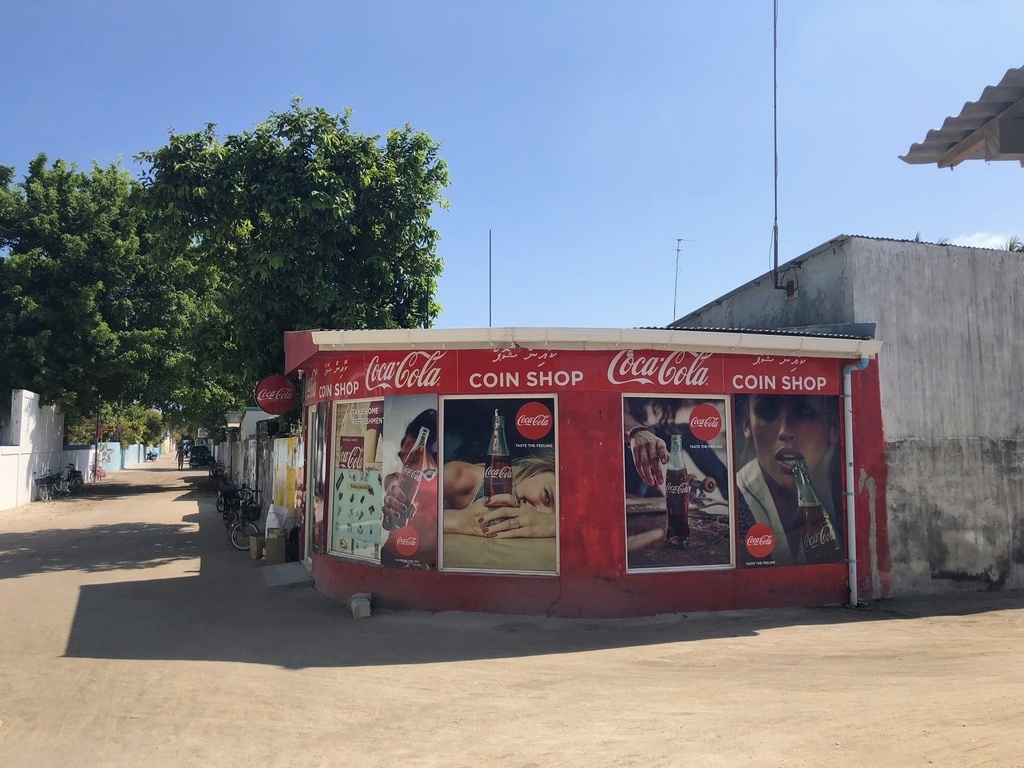 If you're on a budget, the obvious best choice is to find accommodation with a basic kitchen, and to cook your own cheap meals. There are no large markets, but the town is dotted with small general stores which will carry your basics, ramen, dried meats, etc etc, that should get you by. Almost all of these stores are covered in Coke Cola advertising, given to them, I assume for free, by the nearby plant. Either way it makes for some interesting photos. Prices are what you would expect for an island the size of Thulusdhoo, but if you visit the stores further to the west, away from the tourist infrastructure, you'll find much cheaper prices. These stores tend to prefer MVR.
While you won't be missing out on too much by cooking for yourself, there are a number of small local restaurants around the island that serve a variety of seafood, rice and noodles, and the occasional traditional dish. Meals are between $10 and $15, and usually expect USD. I ate at and enjoyed the Canopus Retreats restaurant, over on the east coast, with chairs and tables right on the beach, as well as Silk Restaurant Thulusdhoo, in the middle of town. Silk Restaurant's owner is a very friendly man who often comes out to share about a particularity nice fish he caught that day, suggesting that people order it.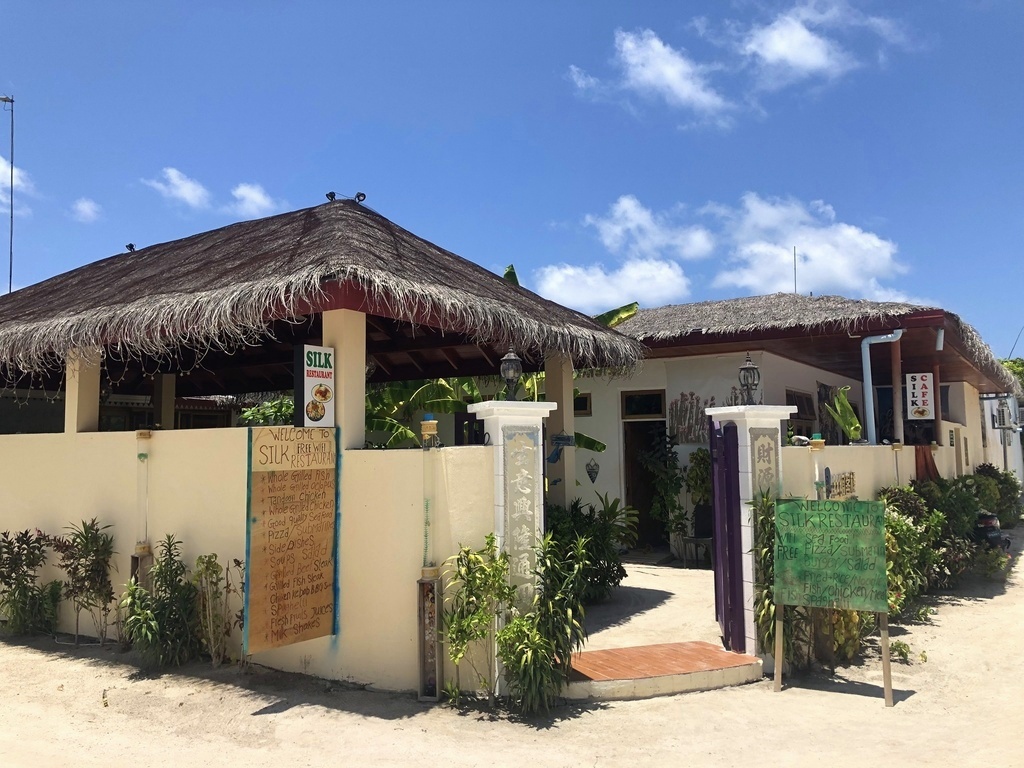 Almost every restaurant on the island will serve coffee, and be more than happy to have you come for just that, which can make for a very nice afternoon, as the views from the coastal restaurants are straight out of guidebooks.
A special shout-out also has to go to the Reef Edge restaurant. Their menu is pretty standard, but they have a huge patio right down by the southeast tip of the island, and are open from the early morning, until the late evening. I spent many nights sitting at a table by the water having coffee, and chatting with the staff. With a purchase, you can ask for a wifi code, which is valid for three days. Their wifi is the fastest that I found on the island, and extends well beyond the hotel, which means that if you eat or drink there once, you can come back to the nearby area to use the wifi for three whole days!